The only way is up
In the past couple of years, we have seen an increasing growth in Digital Displays. Comparing 2022 with 2019, we see a 82% growth in sales in Digital Displays within Showdown Displays Europe. In this, we also see personalisation coming back. Think of the size of the 'housing', but also branding options. Flexibility is important in content, size and quantities in production options. Our European production offers the solution here, for both you and your customers. You are simply closer to the source, which means you have more to offer.
"THE POWER OF DIGITALS"
Where Digitals go beyond
Where the traditional way stops, the modern way of displaying offers more possibilities. You can play on emotion much better with moving content and tell a story more effectively. In addition, moving content also stands out much more than non-moving content. And to put the cherry on top: It also increases viewing time and stands out from a greater distance. This is because it triggers attention, even from the corner of your eye. You constantly see something changing. Curious, you start looking to see what happens, what comes next or how the story ends. Because of this, the story comes across stronger, feelings are conveyed better and people watch the certain advertisement longer. And so you caught people's attention. People stayed watching longer and it may also have attracted attention from a further distance than a traditional advertisement ever would have done. It's simply helping your customer to sell more. The investment of Digitals comes back rapidly and makes sure you and your customer have a high 'Return on Investment' (ROI). That's the power of moving content!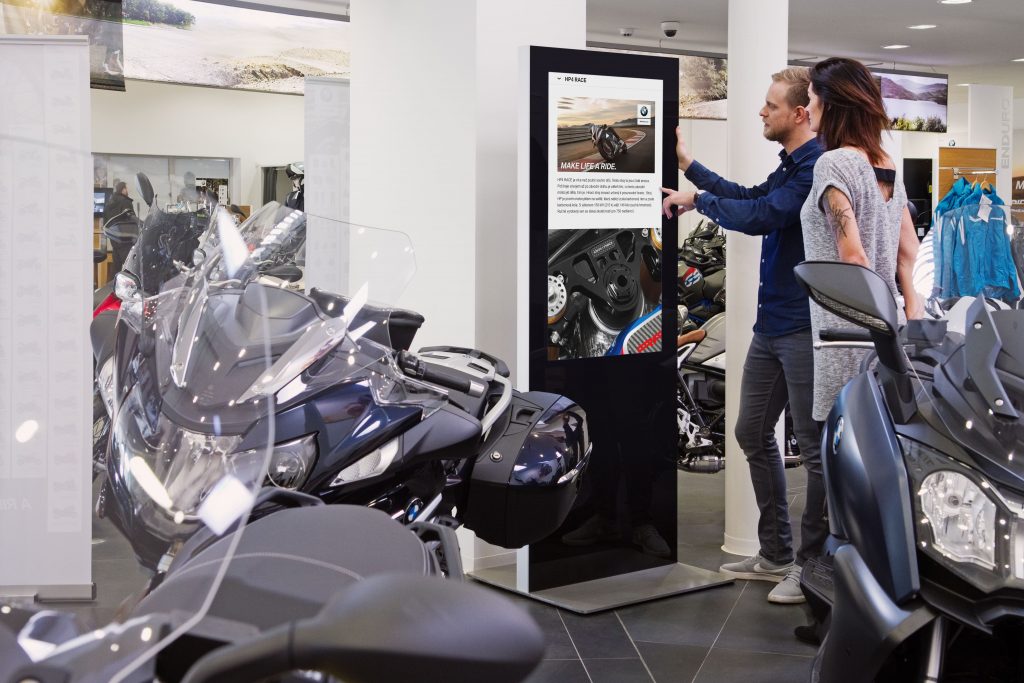 Digital on repeat
Is it time to kick-off a new campaign or in need to change the promotion right this minute? You can easily change the digital content yourself. The professional Samsung screens have a user-friendly content management system, which fits perfectly for use in shopping centres, showrooms, reception halls, trade fairs and so on. Thanks to plug & play or WiFi connection, you are ready for the new promotion in only seconds! And to make it even better: Since you only need one Digital Display that you can use for many different campaigns and promotions, it is a very durable system to use. It's an easy display system for repeated use!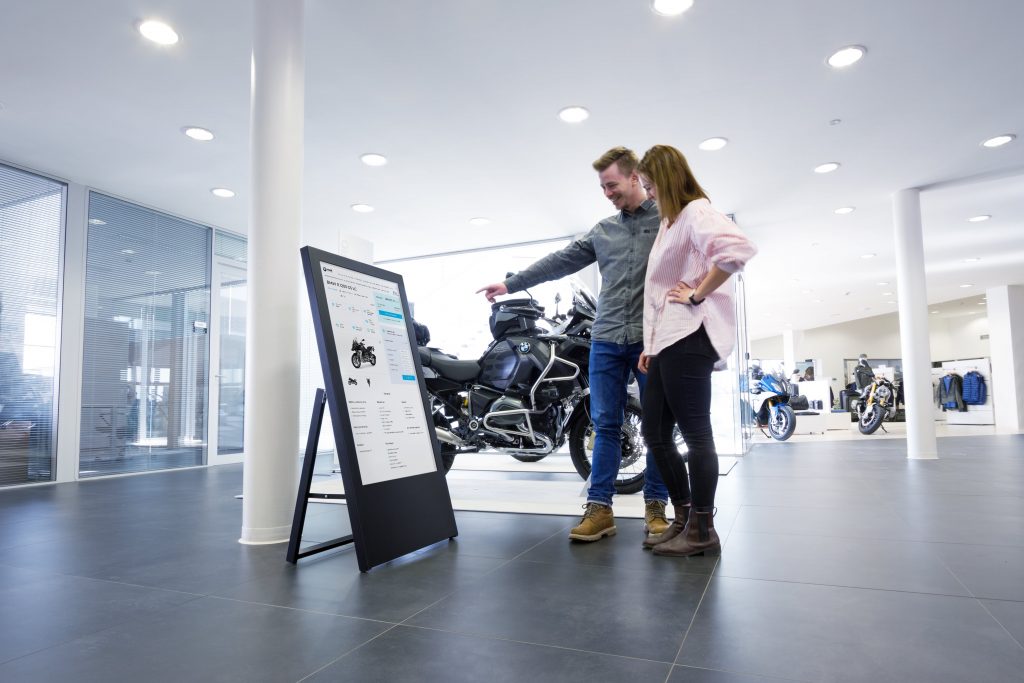 Easy peasy
You don't have to be a technician to use or to sell the Digitals. Digitals sell themselves, with the right content. Use the power of moving content also in promoting the Digitals and bring your customer into the world of experience of Digitals. The Digital Displays are easy to place online and with the right marketing materials such as promotional and instructional videos, in-use visuals, clear product photos and appealing marketing texts. We are happy to help you with this with our marketing support. Want to sell Digitals on your webshop? Our customers have proven that it works. The Digital Displays are easy to place online. With our marketing materials such as the Product Data Package and videos and visuals, you will be ready in no time! What is stopping you?
Time to choose!
Now it's up to you and your customers: Which Digital will it be? The choice is endless! If you are looking for a modern way of digital advertising in shop windows, then hanging digital panels are the perfect solution. Looking for something for inside the building on the wall? Then you can also choose the digital panels suitable for wall hanging. If you want a modern A-Board, choose a digital A-Board. Would you rather stand out? Then choose one of the totems! Do you want to stand out from the crowd outside? Then the choice is simple: one of the two outdoor Digitals will serve you well here. And 'save the best for last': innovative and to truly stand out at every event and promotion is the digital Counter. A Counter and Digital Display in one! So, plenty of choices. Time to choose which powerful way suits the next promotion or campaign!