Goed nieuws: we hebben onze eerste Showdown Displays Europe-catalogus gelanceerd! Na de fusie van Promic Display Systems en Jansen Displays afgelopen juni, hebben we de producten van beide portfolio's samengevoegd tot één digitale catalogus. Bovendien werden nieuwe producten toegevoegd om het assortiment verder uit te breiden.
Resellers kunnen de catalogus, dit keer een digitale editie, raadplegen als naslagwerk voor technische specificaties. Daarnaast is de catalogus bedoeld om resellers aan de hand van praktijkvoorbeelden te inspireren om producten op een andere manier te gebruiken dan voorheen.
Gezondheid en veiligheid voorop
Deze eerste Showdown Displays Europe-catalogus biedt een aantal nieuwe producten. Het afgelopen half jaar was een andere aanpak nodig dan normaal. Om resellers te helpen bij het promoten van gezondheids- en veiligheidsmaatregelen, besloot ons research & development team om nieuwe producten te produceren in onze productiefaciliteit in Přestanov om in deze behoeften te voldoen. De gloednieuwe health & safety producten bestaan onder andere uit desinfectiehouders voor zowel volwassenen als kinderen, acrylglas wanden en vloerstickers. 
Rob Wijnen, Vice President of Sales bij Showdown Displays Europe, vertelt: "Met deze nieuwe catalogus ben ik van mening dat Showdown Displays Europe laat zien dat we een van de meest uitgebreide en complete oplossingen in de Sign & Display-industrie bieden. Samen met ons nieuw gecombineerde salesteam kijk ik ernaar uit om onze voetafdruk in de Europese regio verder uit te breiden door onze klanten te ondersteunen om succesvol te zijn door middel van een onvergetelijke klantervaring."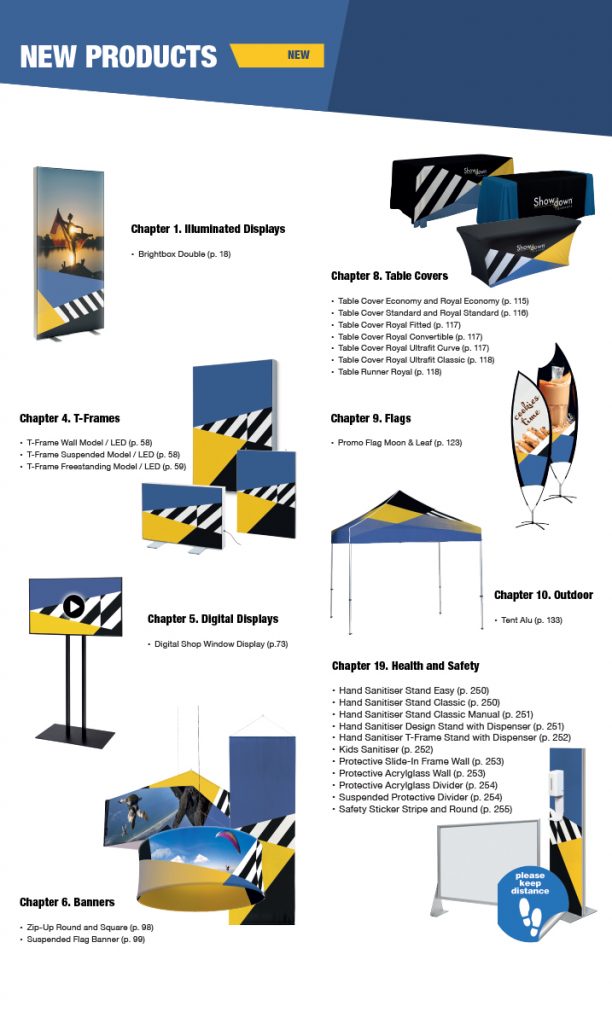 Gebruiksklare producten
Ook tafelkleedjes werden aan het assortiment toegevoegd. Een perfecte manier om je bedrijf, merk en producten te promoten. Maar er is meer. Het assortiment met vlaggen werd aangevuld met de Promo Flag Moon en Promo Flag Leaf, die te herkennen zijn aan hun uitzonderlijke vorm. Verder werden er twee soorten hangende Banners toegevoegd: de Suspended Flag Banner en Zip-Up Round/Square, waarmee gegarandeerd alle aandacht wordt getrokken.
Nu de herfst is begonnen, introduceren we tevens een aantal producten die wat extra licht kunnen schijnen in de donkere tijd van het jaar. De nieuwe Brightbox Double met een concurrerende prijs is toegevoegd aan het assortiment van Light Boxes. Ook de nieuwe T-Frame Wall Model, T-Frame Suspended Model en T-Frame Freestanding Model hebben een LED-optie. Deze kunnen worden gebruikt om aan de muur te hangen, aan het plafond te bevestigen of om muren te bouwen. Bovendien kan onze printfaciliteit in Přestanov de prints verzorgen, resulterend in gebruiksklare producten. 
"We zijn erg trots op de lancering van onze gloednieuwe catalogus met ons volledige productportfolio, inclusief een aantal nieuwe producten", zegt Vít Zajíček, President van Showdown Displays Europe. "Dit is opnieuw een grote mijlpaal voor ons na de livegang van ons nieuwe merk afgelopen juni en onze nieuwe webshop (Online Reseller Platform) in juli. Met de uitdagingen die de covid-19 situatie met zich meebrengt, blijft het ons hoofddoel om flexibel te blijven inspelen op vragen van onze klanten en de markt."