Communicating health measures in a clear way is crucial for the protection of employees, customers and visitors. Not only now, but also in the future.
That is why we have expanded our range with health & safety products so that we can help you and your customers even better. We'd also like to inspire you how your customers can use our regular products to deliver the right message. Scroll on and find out how!
Away with that virus!
Hand sanitisers are a simple but effective way to provide hygienic facilities. We offer various options, allowing personalisation as well.
Not only do we have sanitisers for adults, also our little ones are taken care of. How about a kid sanitiser with a frog, cat or elephant on top?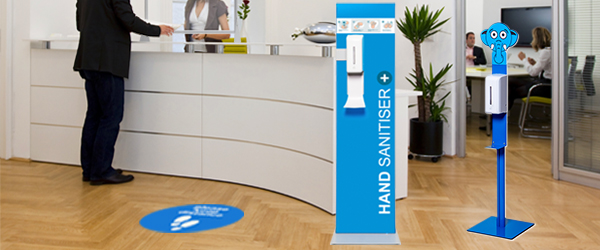 So close, yet so far away
You want to help someone, but at the same time keep enough distance? That's no problem at all with our protective walls.
They are simple and versatile to use in various situations: from office spaces and reception desks to cash registers. These solutions can also be used in the long term thanks to the metal legs, sturdy construction and aluminum frame.
Take care of yourself!
Only together will we get corona under control. Do you have a specific request for a product you didn't find in our collection of health & safety products? Let us know, we are happy to think along with you.
At our Online Reseller Platform you will find everything else you need to put these products on your platform: detailed photos, print templates and product information sheets. Time to get started!