Great news: we've launched our first Showdown Displays Europe catalogue! Since the merger of Promic Display Systems and Jansen Displays last June, we've combined all products of both portfolios into one digital catalogue. Moreover, new products were added to further complete the assortment.
Resellers can consult the catalogue, which is a digital edition, as a reference book for technical specifications. In addition to that, the catalogue also aims to inspire resellers to use solutions in a different way than before, using various practical examples.
Health and safety first
This first Showdown Displays Europe catalogue features a number of new products. The last six months asked for a different approach than before due to the current covid-19 situation. To help resellers to promote health and safety, our research and development team decided to start producing new products in our production facility in Přestanov to answer these needs. These brand new health and safety products include hand sanitisers for both adults as children, acrylic glass walls and safety floor stickers.
Rob Wijnen, Vice President of Sales at Showdown Displays Europe, tells: "With this new catalogue, I believe we demonstrate that Showdown Displays Europe provides one of the most comprehensive and mature offerings in the Sign & Display industry. Together with our newly combined sales team, I look forward to expanding our footprint further in the European region by supporting our clients to be successful through a legendary customer experience."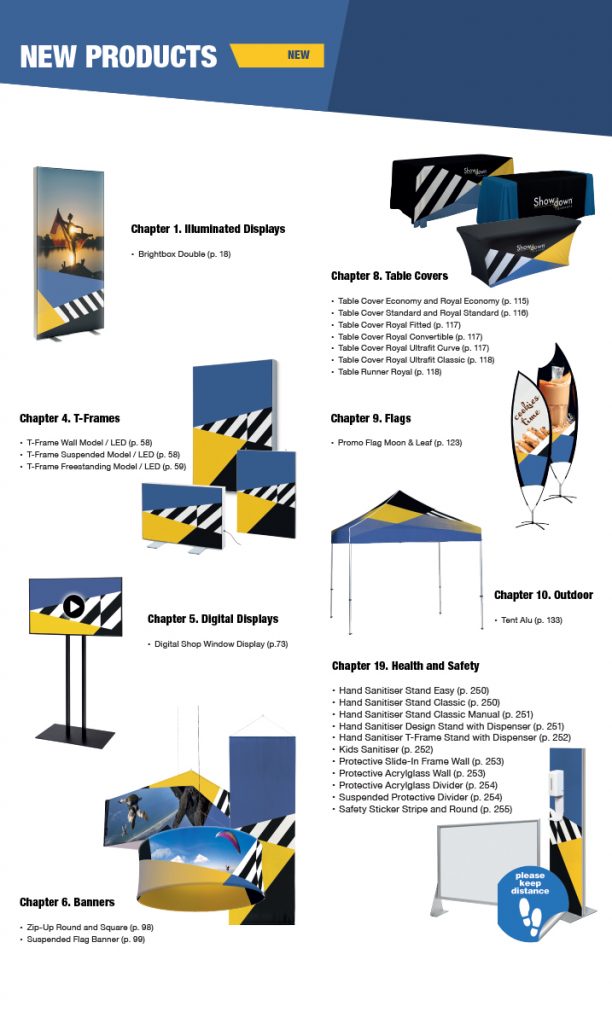 Ready-to-use products
Table Covers were also added to the assortment. A perfect way to present a brand and its products at the same time. But there's more. The range of Flags was complemented with the Promo Flag Moon and Promo Flag Leaf. These Promo Flags can be recognised by their exceptional shape. Furthermore, two types of hanging Banners were added: the Suspended Flag Banner and Zip-Up Round and Square, which guarantee maximum exposure.
Now that autumn has started, we also introduce a few products that can shine some extra light in the dark time of the year. The new Brightbox Double was added to the range of Light Boxes with competitive pricing. Also, the new T-Frame Wall Model, T-Frame Suspended Model and T-Frame Freestanding Model have a LED-option. These can be used to either hang on the wall, from the ceiling or to build walls. Subsequently, our printing facility in Přestanov can take care of all prints, resulting in a ready-to-use product.
"We're very proud to launch our brand new catalogue with our complete product portfolio, even introducing new products", Vít Zajíček says. "This is another huge milestone for us after launching our new brand last June and our webshop (Online Reseller Platform) last July. Even though we've been facing challenges due to the current covid-19 situation, like many other companies, our ultimate goal is to continue to respond flexibly to demands from our customers and the market."